Cambridge Journals now online!
The University Library and the Journals Coordination Scheme (in which the IoA Library participates) have recently announced university-wide access to all online Cambridge University Press (CUP) journals.
There are 209 titles in the Cambridge Journals package. Access to previous years issues varies by title, with some journals extending as far back as 1997. 
CUP journals cover a broad range of subjects including mathematics and applied science, environment and conservation, agriculture, neuroscience and biomedicine, history, area studies, language and linguistics, and political science and international relations.
Titles likely to be of particular interest to astronomers include:
The British Journal for the History of Science
International Journal of Astrobiology
Proceedings of the International Astronomical Union.
(this includes all new IAU symposiums and colloquia and some other IAU publications such as 'Highlights of Astronomy')
Access to the journals is available via the ejournals@cambridge portal at: http://www.lib.cam.ac.uk/ejournals_list/ , via Google Scholar or:
While access is currently available from these links, quick links from the
University Library's Newton database should soon be available.
Extra online…
The IoA Library Bulletin itself is now available online.  The online format allows the inclusion of extra information such as more pictures and links.  Find it at http://www.ast.cam.ac.uk/~ioalib/BULLETIN34.htm
Dissertations
Continuing our look at special collections in the Library, this issue we look at dissertations.
We have about 500 dissertations in the Library, of these about 330 are Cambridge Ph.D.s, the remainder are doctoral dissertations from other universities including many from Europe and North America.  There are also a small number of Masters dissertations. 
They are all catalogued onto Newton and can be found in the Library Annex Room.
<![if !vml]>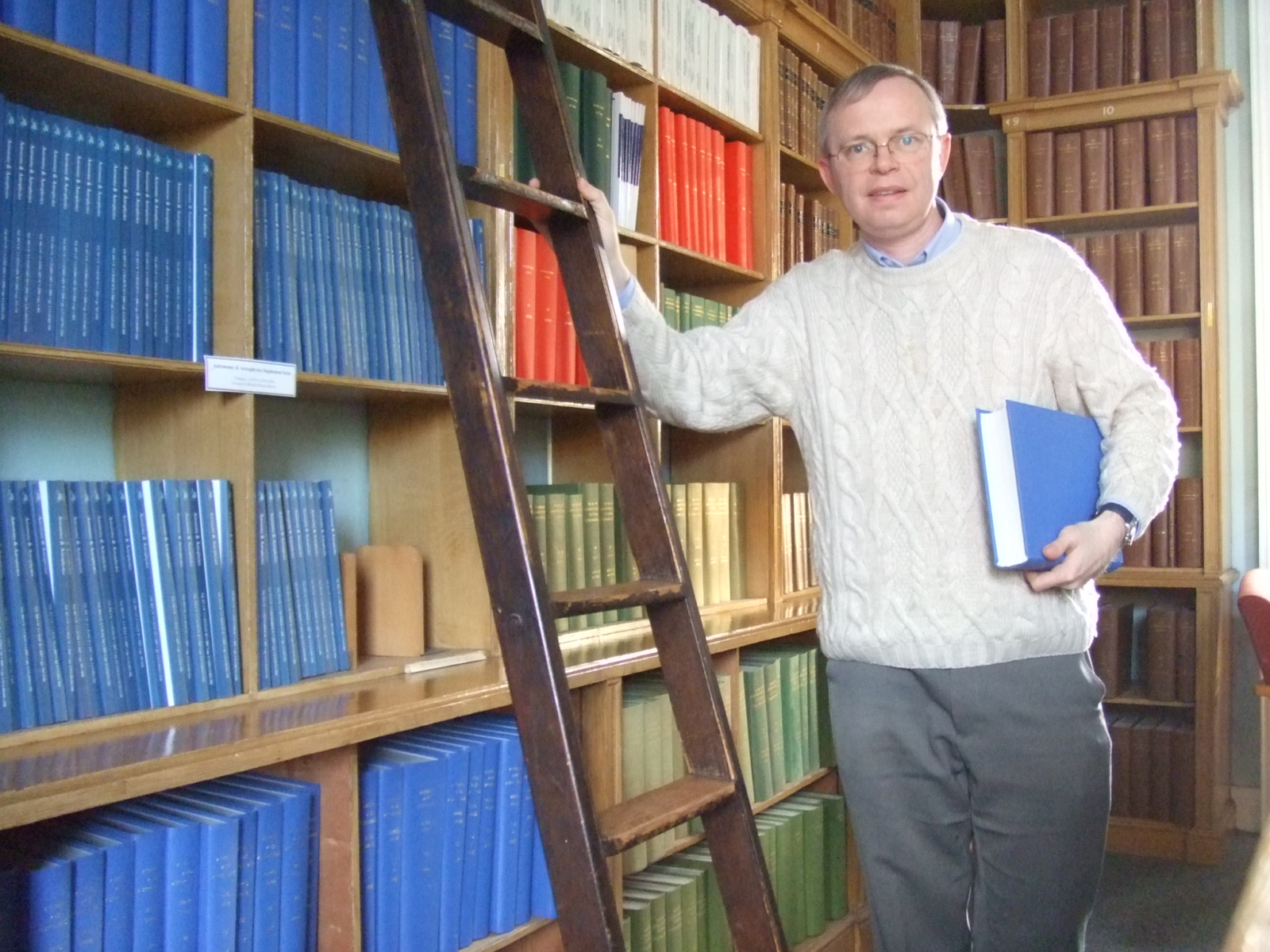 <![endif]>
 Happy New Year from the Library
FAQ Corner
Q.  How can I renew my books? 
A.  Simply bring the book into the Library Office, if this is not possible for any reason just contact the librarian by email or phone.  If you have a University Card you can also renew online using the 'Your Account' link in Newton.
Library Tours on offer
If you are new to the IoA and are interested in finding out what the library has to offer.  Why not join a Library Tour in February.  Tours last only half an hour, but are packed with interesting details.
Meet in Library Room C (this the largest room in the Observatory building).
Tours will run on:
Tuesday           12 Feb at
Friday              22 Feb at
Wednesday      27 Feb at
No need to book in advance.
IoA Publications database
This database is a bibliographical database of publications produced by members of the Institute.  It can be found at:
http://archive.ast.cam.ac.uk/pubssearch/pubs_search.html
It runs from 1993 and is updated by the IoA Librarian twice yearly (in July and January).  Whilst it is no substitute for NASA's ADS, it does have some advantages, it has slightly wider coverage of journals and IoA authors are clearly marked in bold.  It can be searched in a variety of ways and there is a choice of output formats.
            The database covers both refereed and non-refereed publications. If you find any of your publications are missing from this database, please contact the Librarian, who will be happy to add them.  Although, please note, publications where IoA affiliation is not given can not be added to the database.
Once again the Society for the History of Astronomy (SHA) AGM and spring convention will be held at the IoA this year on Saturday the 17th May.  The theme of the conference will be William and Margaret Huggins and the rise of astrophysics.  For more information contact Mark Hurn or go to:  http://www.shastro.org.uk/
The Book of the Month for February is:
The international atlas of lunar exploration  by Philip J. Stooke. Published by Cambridge University Press, 2007. ISBN: 9780521819305
It can be viewed in Library Room C or view: http://www.cup.cam.ac.uk/uk/catalogue/catalogue.asp?isbn=9780521819305
Thanks this issue go to Jonathan Shanklin who again this year has donated a complete year of 'Astronomy' magazine to the Library.
Thanks also to Verity Yeates who has done voluntary work in the Library on Fridays through October to December 2007, she is now taking up a job in the library of Girton College.