Welcome to this IoA Library Bulletin, the first to be available online.
Royal Society throws open its doors…
The Royal Society, founded in 1660 is Britain's premier scientific organization.  Its large range of scientific publications has now been made available free on the internet for an experimental period from 1 September to 30 November 2007.  This includes the entire back runs of journals such as Philosophical Transactions A, (see its recent issue on gamma-ray bursts - no. 1854) and Proceedings of the Royal Society (which carries many mathematical papers).  Find out more at:  www.royalsoc.ac.uk
What we found in the attic!
As part of the project to clear the SPO Building, Paul Aslin, Sue Cowell and librarian Mark Hurn started clearing the SPO attic on Friday 17 August.  Among the miscellaneous clutter of ages we found, 2 mens jackets, a carpet cleaner, a sock, curtains, ski boots, a road sign to Prague, a fishing net and a picture of the SS Great Britain!
We also found some interesting astronomical relics, including a collection of 63 large volumes with photographs of the disc of the Sun for each day for approximately 46 years.  These were taken at Ely (1863-1874), India (1878-1909) and Mauritius (1888-1903).
            The Ely pictures are particularly interesting, they were taken by Canon William Selwyn (1806-1875) he was Lady Margaret Professor of Divinity at Cambridge and a leading clerical figure of his day.  It seems he also had astronomical interests and arranged to have these photographs taken by local Ely photographer John Titterton using a 6-inch achromatic telescope by Slater of London.  These enormous bound volumes are now stored in the Michael Penston Room (see picture). We have since found that a collection of Selwyn's solar photographs is also held in the RGO archives (RGO.202).
            Also of great interest was the discovery of the original photographs for 'An atlas of representative stellar spectra from λ 4870 Å to 3300 Å  / by Sir William Huggins and Lady Huggins' published in London by William Wesley (1899).  We have mentioned previous discoveries of Huggins material in the Observatory (see IoA Library Bulletin no. 32)  Sir William and Lady Huggins were pioneers in astronomical spectroscopy from their private observatory at Tulse Hill in London, later their telescopes were removed to Cambridge.  These photographs show spectra from various bright stars and the Orion Nebula compared to the Sun.
<![if !vml]>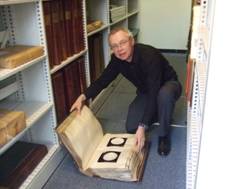 <![endif]>
The Ely sun pictures in their new location (photo by Rosie Bell)
New Books – each month a list of new books is placed on the IoA Library website.  The books themselves are placed on display in the Hoyle building library area.  There is a clipboard underneath the display so you can reserve books of your choice.
Appeal- please fill out a loan card before removing any book from the Library.  It only takes a few minutes and it can save a lot of time and expense.  There are trays with loan cards in every library room.  If you do not, the book becomes missing causing frustration for other users.
Society for the History of Astronomy
Autumn Conference
Saturday 6 October 2007
At the Birmingham Midland Institute
Talks on Challis-Herstmonceux-Lincolnshire-Dolland-Antikythera
See Librarian for more details
From Afghanistan to Zulu: there are many ways of searching the library online catalogue, Newton.  After some recent work all records for books in the IoA Library are now coded for their language and country of publication.  Since our collection includes quite large numbers of books in French, German and Russian, you might want to include or exclude these in a search. You can use these codes to limit searches of Newton, just click 'more search limits' on the bottom right hand of the Newton search screen.  As you will see it is also possible to limit the search by date of publication and many other criteria.
Public Observing Nights restart at the Institute on Wednesday 10 October.  There is normally a short public talk starting at followed by observing on the Thorrowgood Lawn.  For more information see:
http://www.ast.cam.ac.uk/public/public_observing/welcome.html
As from August 2007 the IoA Library will no longer be able to issue new ATHENS accounts.  It is planned that new access will now be controlled through RAVEN userids and passwords, although we understand there are some technical issues to be resolved.  However, if you have an existing ATHENS account, this should work as normal until summer 2008. 
            If you do not have an existing account and require access to ATHENS authenticated services, for example ISI Web of Knowledge (a very useful citation database) we will in future refer you to the Betty & Gordon Moore Library (Wilberforce Road).
Have you seen half the Library?
The Michael Penston Room is the IoA Library's main stack area.  Here is where we keep back runs of journals, Observatory Publications and much else.  Recently, much of the stock from Room G has been moved to the Michael Penston Room. 
On Newton, items marked as 'Location: Astronomy Library: Stacks' are held here.  The two runs of mobile shelving in this room account for nearly half the shelf space available to the library, so if you have never seen the Michael Penston Room you haven't seen half the Library!
This room in Greenwich House is only accessible through the link room from the Observatory Building and requires a code (available from the Librarian) to enter.