AXIAL MERIDIAN CIRCLE OF NIKOLAEV ASTRONOMICAL OBSERVATORY
Pinigin G.I. (pinigin@mao.nikolaev.ua)
Kovalchuk A.N. (al_kov@mao.nikolaev.ua)
Protsyuk Y.I. (yuri@mao.nikolaev.ua)
Shulga A.N. (japetus@mao.nikolaev.ua)
INSTRUMENT
Nikolaev AMC was installed in Nikolaev (Ukraine) with latitude +46° 58', longtitude (East) 31° 58' and put into operation in 1995.
1.1 DESIGN (Fig.1,2,3)
The scheme includes the horizontal telescope in the prime vertical which can rotate around its axis in shoes. The objective extremity is connected with the 45- degrees citall pentag. Second extremity is connected with the ocular star micrometer. The star light reflect from diagonal pentag mirror and go to star micrometer. Another beam of light go to star micrometer from mark of longfocal autocollimator in prime vertical through the central hole of pentag. So, it is possible to determine the coordinates of celestial bodies according to position of immovable autocollimator and check the instrumental parameters.
1.2 PRINCIPAL AMC COMPONENTS:
Horizontal axial tube located in shoes and coated of insulation against temperature gradients. Tube is connected with CCD star micrometer and pentag. Pentag is made from citall cylinder with central hole.
Glass circle with reading system includes four reading microscopes (D=420mm, 5' division intervals. There are two additional microscopes for automatic determination of graduation errors and checking of their stability. Mean error ±0."02 by reading time 16 seconds.
Autocollimator with CCD (288x256, 24x32mkm) in prime vertical is located in front of AMC pentag. Mean error of artificial mark reading is ±0."02. The tube is vacuumed for absence of the refraction anomalous on the horizontal path.
Computer control system (CCS) provides observations with the AMC in automatic and manual modes, telescope setting, divided circle and micrometers of tube and autocollimator readings, collecting the meteorological data in real-time, data preparation, handling and keeping.
CCS includes software and hardware. The observer's integrated enviromental (IE) was elaborated. The IE provides input data preparation; determination of instrumental parameters; testing of the telescope devices and units; observations in automatic and manual modes; display information about the current status of observational processes; handling and keeping of observational data.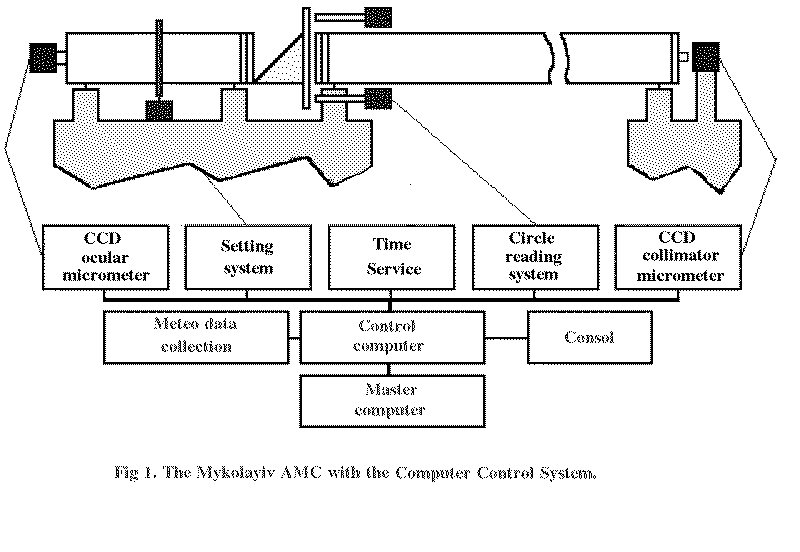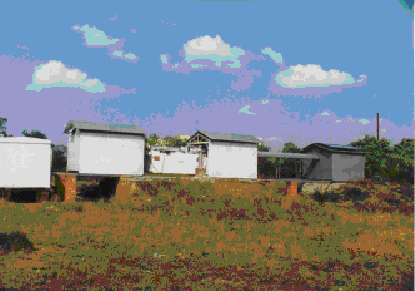 Fig.2 General view of Nikolaev AMC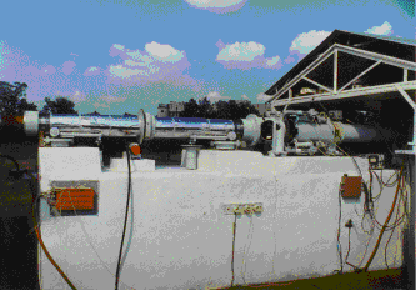 Fig.3 Central part of AMC
1.3 ACTUAL TECHNICAL DATA
Axial tube:
objective aperture 180mm, focal length 2480mm,
CCD star micrometer
of axial tube:
CCD ISD017A (1040x1160, 16x16mkm),
pixel field 1".33, FOV(23'x26'),
observation mode
drift scan (exposure time 103s x sec(delta)),
stare mode (for immovable objects),
strip declination height 23'
Autocollimator:
objective aperture 180mm, focal length 12360mm,
Drives:
positioning accuracy ±4";
CCS
efficiency about 7000 star observation per hour,
magnitude range 8.5 - 16
2 RESULTS OF AMC INVESTIGATION
| | |
| --- | --- |
| Horizontal flexure: | not more than 0."037 |
| Collimation variation: | 0."026/1°C |
Variation of AMC instrumental system not more than 0."02-0."03 in declination range 0° to +75°
3. OBSERVATION PROGRAM AND RESULTS
From 1996 observation of intermediate reference stars in the selected fields around 190 northern extragalactic radio sources in the 12-15 magnitude range were made. It was recieved observations of intermediate reference stars from USNO-A2.0, primary reference stars from HC and additional stars from TC.

The version of AMC catalogue (AMC1B) was complited in 2000. It contains about 14400 stars with catalogue accuracy on both coordinates:

This catalog is available on WWW page: http://mypage.goplay.com/naom/amc1b.zip
Postscript version of original (1).